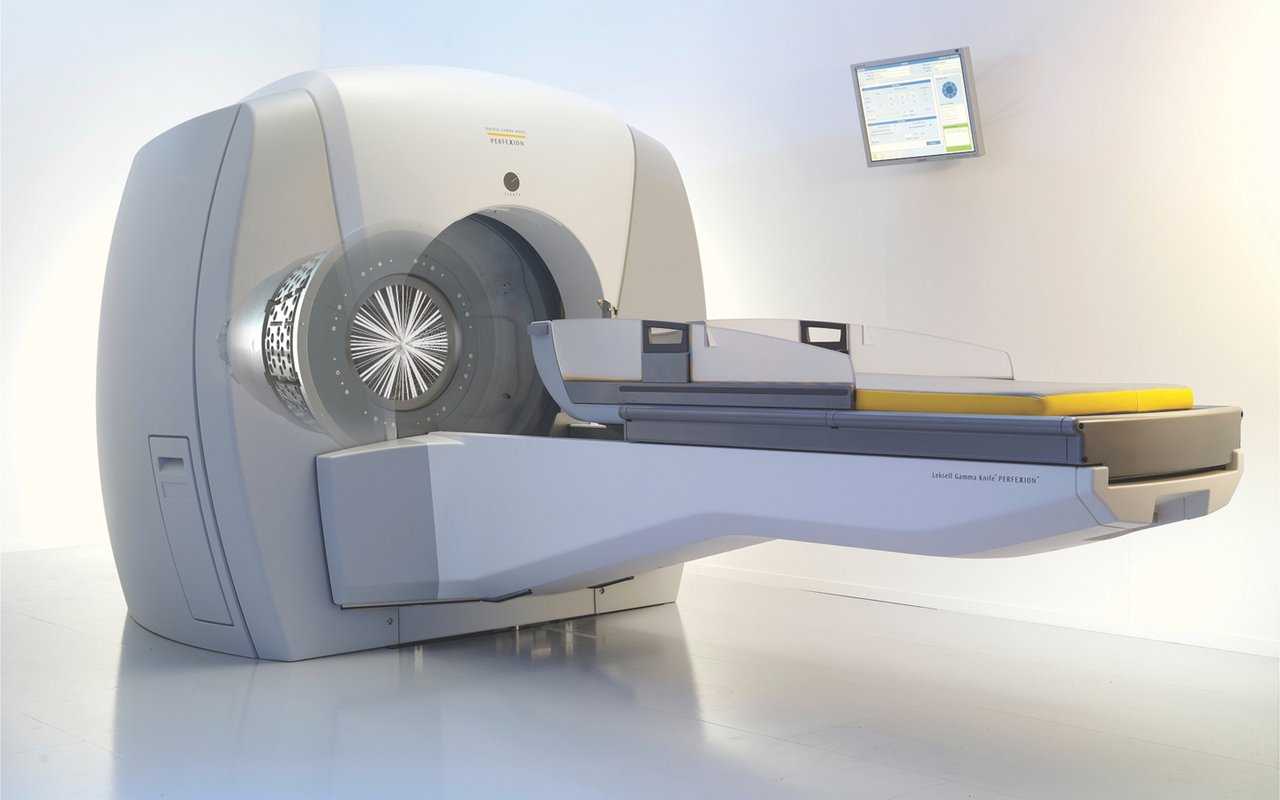 A Revolution in Care.
Gamma Knife®
Radiosurgery Using Sophisticated Technology
Gamma Knife Radiosurgery in Miami
What is Gamma Knife?
Gamma Knife is a pain-free, noninvasive, stereotactic radiation therapy that uses 192 intersecting gamma rays of radiation to treat brain cancer, brain tumors, trigeminal neuralgia, glioblastoma, meningioma, AVM, and other neurological disorders. 
The Gamma Knife is designed explicitly for cervical spine and brain conditions. During the procedure, these areas are isolated from movement to ensure the precise delivery of the gamma rays to the target area, avoiding healthy surrounding tissue.
Although Gamma "Knife" evokes the image of an invasive surgical procedure, this is a common misconception. Radiosurgery does not require an incision into the skin with a scalpel nor the opening of the skull.
Request More Information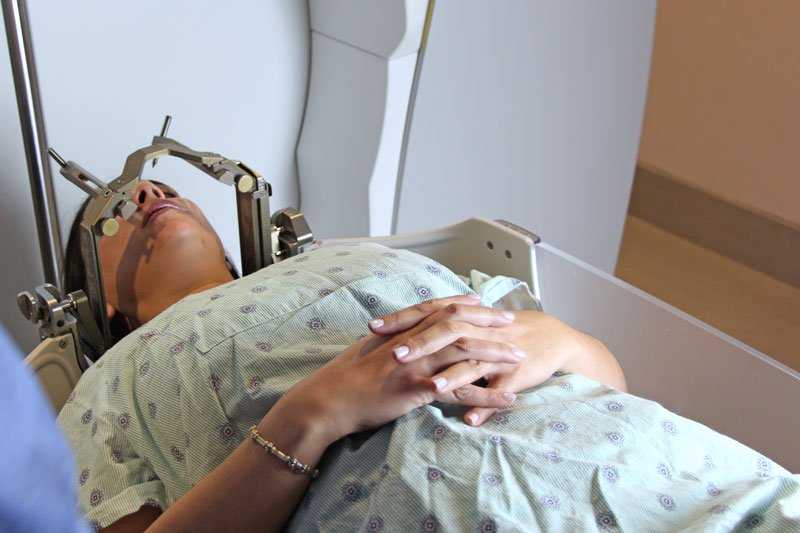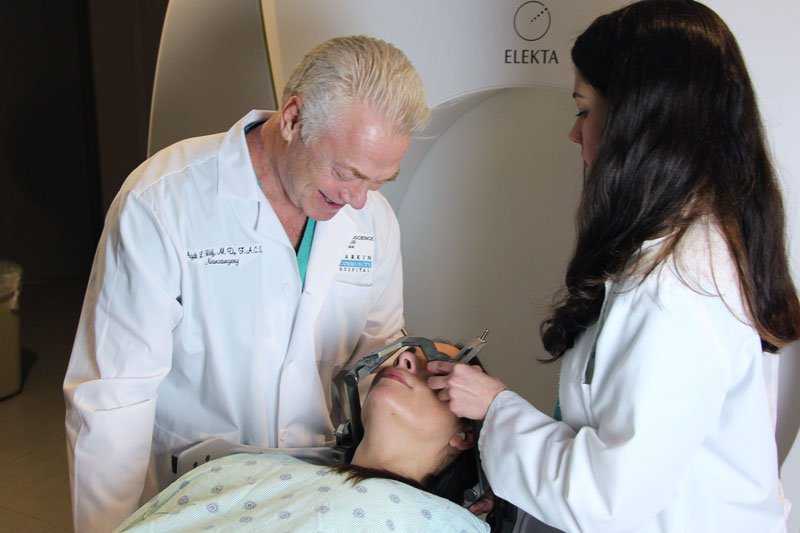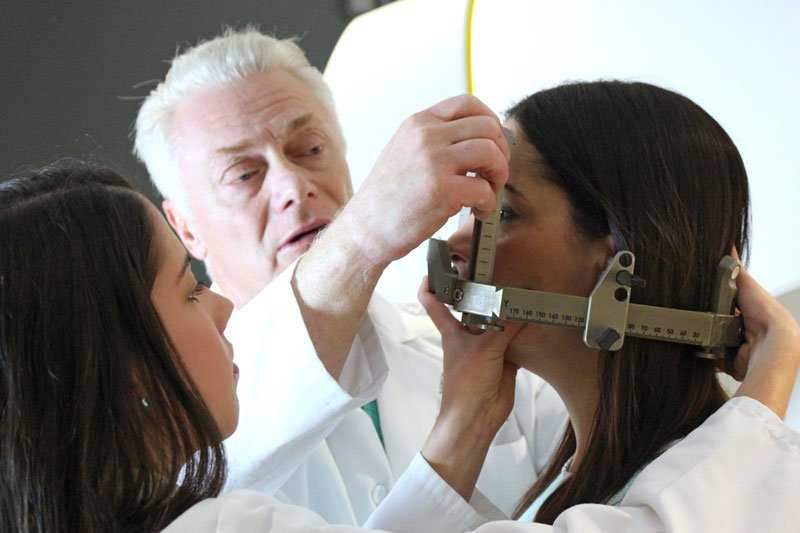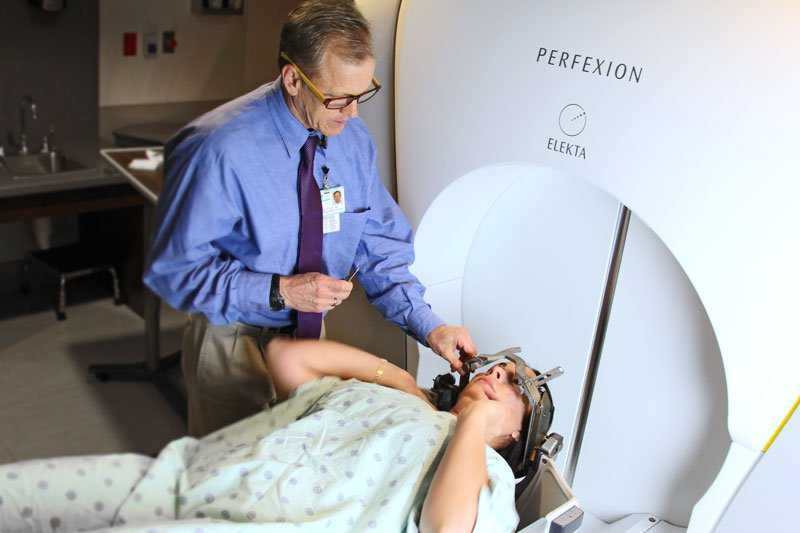 5 Simple Steps to a Gamma Knife Procedure
The steps of a Gamma Knife procedure are simple. If you would like a more in-depth explanation read the before, during, and after Gamma Knife radiosurgery questions to follow. To undergo the procedure, you are simply:
Administered an IV, mild sedation, and contrast dye for imaging studies.
Crowned with a rectangular metal frame that stabilizes you during the imaging process and the procedure, using four pins. Don't fear, you will be asleep due to the sedation.
Examined using imaging studies (MRI, CT scan, and/or Angiography) to map the malformation and develop a treatment plan.
Secured on a sliding table that enters and exits the Gamma Knife machine. The procedure is silent, pain-free, and lasts anywhere between 15 minutes to under two hours.
Sent home once the frame is removed, after-care is provided to the wound sites, lunch is provided, prescriptions are administered, and a follow-up appointment is scheduled.
---
Often, patients finish treatment in disbelief that they underwent radiosurgery.
Don't be fooled from this simplified description, the Gamma Knife machine is a sophisticated technology that requires a whole team of professionals to operate. The Gamma Knife team is composed of physicians, physicists, neuroradiologists, physician assistants, nurses, and radiation oncologists.
Gamma Knife vs Other Treatment Modalities
Gamma Knife versus Cyberknife, Novalis, Trilogy, and Radiation Therapy
| Advantages | Gamma Knife | Cyberknife - Novalis - Trilogy | Radiation Therapy |
| --- | --- | --- | --- |
| Noninvasive | | | |
| Increased Accuracy | | | |
| Reduced Side Effects | | | |
| Versatile Treatment Options | | | |
| Rapid Recovery | | | |
| Single Session | | | |
| Most Established Modality | | | |
| Dedicated Neurosurgical Tool | | | |
---
Gamma Knife versus Whole Brain Radiation Therapy (WBRT)
WBRT is a form of external beam radiation therapy that uses a linear accelerator to treat the entire brain with a low dose of radiation. It is considered traditional radiation therapy and is performed on an outpatient basis, 5 days a week for two weeks.
Gamma Knife is a form of stereotactic radiosurgery (SRS) that precisely targets a neurological disorder with a high dose of Cobalt-60 radiation. It is also performed on an outpatient basis and generally requires a single treatment.
Increasingly, Gamma Knife is replacing WBRT due to concerns regarding the adverse effects of WBRT on cognitive functions 6 months after treatment and suboptimal tumor control.
When to consider Gamma Knife:
As a monotherapy (on its own) if you have less than 5 metastases and want to avoid the adverse effects and toxicity of WBRT1
If you have brain metastases that are resistant to radiation such as renal cell carcinoma, melanoma, and sarcoma1
As a salvage therapy after WBRT failure1
As a boost after WBRT if you have less than 10 metastases1
---
How are Gamma Knife and WBRT different?
Precision

Gamma Knife is a targeted treatment approach that minimizes radiation to healthy brain tissue while WBRT treats the entire brain.

Radiation dose

Gamma Knife provides a higher, quicker, and precise dose of radiation with a steep fall off, while WBRT involves a lower dose of radiation over a more extended period.

Number of treatments

Both treatments can be performed on an outpatient basis. However, Gamma Knife generally requires a single treatment while WBRT requires 5 treatments over two weeks. 

Long term effects on cognitive functions

Studies demonstrate that patients undergoing WBRT have late delayed (+ 6 months) radiation-induced brain injuries affecting their cognitive functions (memory, attention, and concentration)2,3
SRS vs. WBRT + SRS for patients with 1 to 3 brain metastases4
|   | SRS plus WBRT | SRS Alone |
| --- | --- | --- |
| Cognitive deterioration at 3 months | 91.7% of patients | 63.5% of patients |
| Cognitive deterioration at 12 months for long-term survivors | 94.4% of patients | 60% of patients |
| Quality of life at 3 months | Lower | Higher |
| Time to intracranial failure | Longer | Shorter |
| Median overall survival | 7.4 months | 10.4 months |
Gamma Knife and other forms of stereotactic radiosurgery (SRS) may be used as an alternative to or in conjunction with WBRT. 
Developing a treatment plan is complex and unique to each patient. It involves a variety of factors, including:
Previous treatments, number of attempts, and the success or failure of those attempts
Number of tumors
If you have a recurrence of brain tumors
If you have radioresistant brain tumors
Life expectancy
If the metastases is isolated within the brain or it is also outside the brain
Resources:
1. The Role of Surgery, Radiosurgery and Whole Brain Radiation Therapy in the Management of Patients with Metastatic Brain Tumors - https://www.ncbi.nlm.nih.gov/pmc/articles/PMC3263703/
2. A randomised trial to compare cognitive outcome after gamma knife radiosurgery versus whole brain radiation therapy in patients with multiple brain metastases: research protocol CAR-study B - https://www.ncbi.nlm.nih.gov/pmc/articles/PMC5822552/
3. Neurocognitive functioning and health-related quality of life in patients treated with stereotactic radiotherapy for brain metastases: a prospective study - https://www.ncbi.nlm.nih.gov/pmc/articles/PMC4767242/
4. Effect of Radiosurgery Alone vs Radiosurgery With Whole Brain Radiation Therapy on Cognitive Function in Patients With 1 to 3 Brain Metastases - https://www.ncbi.nlm.nih.gov/pmc/articles/PMC5313044/
---
Gamma knife versus open brain surgery
Gamma Knife is a safe, efficient, and cost-effective alternative to open brain surgery (also called resection). It does not require general anesthesia nor involve the risks associated with open surgery such as hemorrhage, infection, CSF leaks, or other morbidities.
Multiple studies demonstrate that the overall cost to the patient and provider is significantly lower for Gamma Knife than open surgery. For example, the cost to treat patients with Gamma Knife for conditions such as brain metastases, acoustic neuromas, and AVM is about 50% less than patients treated with open surgery.1
With Gamma Knife, patients can expect:
Quicker recoveries
Less time off of work
Shorter or no hospital stay
Reduced utilization of hospital resources
Lower complication rates and mortality rates.2
| | Gamma Knife | Open Surgery |
| --- | --- | --- |
| Hospital Length of Stay (LOS) | 2.2 days (At our center it is extremely rare for patients to be hospitalized. Gamma Knife is performed on an outpatient basis) | 18 days (around 5 days in the ICU and 13 days in the ward) |
| Is Intensive Care Required? | No | Yes |
| Loss of workdays | 8 days (At our center patients generally resume normal activities the next day) | 160 days |
| Complication Rates | 3.8% | 31.2% |
| Mortality Rate | No mortality | 5.3% |
| Invasiveness | Non-invasive | Invasive |
| Can treat conditions that are deep within the brain or difficult to reach | Yes | More difficult, if not impossible |
Resources:
1. A cost comparative study of Gamma Knife radiosurgery versus open surgery for intracranial pathology. - https://www.ncbi.nlm.nih.gov/pubmed/25444994
2. Socioeconomic Costs of Open Surgery and Gamma Knife Radiosurgery for Benign Cranial Base Tumors - https://academic.oup.com/neurosurgery/article-abstract/58/5/866/2614558?redirectedFrom=fulltext
Before, During, and After the Gamma Knife Procedure
"Because of its extensive use and enormous amount of supportive data generated, the Gamma Knife® is still considered the gold standard."
-The Journal of Neurosurgery
FAQ - Frequently Asked Questions
To see if Gamma Knife® is right for you call us at 786.871.6856 or schedule a consultation today!